Alive 108: Fonzie Confronts Dan Lambert; Mila Moore Victorious; Bus Earns Title Shot
Tons of action on this week's episode of CCW Alive. We get a visit from American Top Team's Dan Lambert and a nasty interaction between Lambert and Manager of Champions/ECW Legend Bill Alfonso. We also have action in the women's division and a battle royal to determine the No. 1 contender for Ariel Levy's CCW World Heavyweight Championship.
Click the video player below to watch CCW Alive Episode 108 and read below for our recap.
Dan Lambert, Bill Alfonso Scrap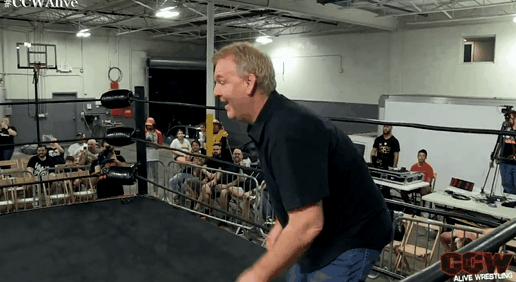 We open this week's show with American Top Team owner Dan Lambert headed to the ring with a mic in his hand. Lambert has been a somewhat regular visitor to CCW's Bash At The Brew shows at Unbranded Brewing Company in Hialeah, Fla. recently. To say, he hasn't made any friends or fans at these shows might be an understatement.
Lambert's visit this week on CCW Alive included bashing Hialeah and the CCW fans, as usual. He even went so far as to call Hialeah a "third-world s**thole." Eventually, Bill Alfonso had heard enough. The Manager of Champions hit the ring and had a few words for Lambert.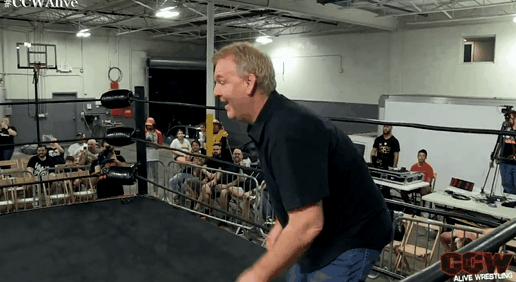 But Alfonso made one mistake. Once he got into the ring, he turned his back on Lambert. And Alfonso paid for that mistake. Lambert blasted him in the back of the head with the microphone and hung him up in the corner. Then, he placed a steel chair in front of Alfonso's face and dropkicked it, bloodying Fonzie.
While Lambert mugged and flexed for the cameras, Alfonso crawled over to him and delivered a low blow that took Lambert off his feet. From there, the two rained haymakers on each other before CCW officials and security could separate them.
What happens next between these two is anyone's guess. Stay tuned …
Mila Moore def. Roma
Once order was restored in the ring following the Lambert-Alfonso altercation, we got to the action in the CCW women's division. Former champion Roma faced relative newcomer Mila Moore. While both women had their fair share of offense, Moore secured a surprise victory.
Roma scored with a beautiful butterfly suplex, but was a bit slow and lax with the cover, which might have cost her a chance at the pinfall. Moore kicked out, but was still suffering the effects of the suplex.
Roma followed up shortly thereafter with an attempted fisherman's suplex. But Moore managed to block numerous attempts. Moore then reversed into an inside cradle, grabbing a handful of Roma's tights to secure the victory in a bit of a shock, defeating a former CCW Women's Champion.
The Bus Wins No. 1 Contender's Battle Royal
Finally, we bring you a battle royal with the winner getting a shot at CCW World Heavyweight Champion Ariel Levy. The Bus Big English, Ricky Martinez, Ozzy Kilmeister, Chris Farrow, Nick Turner, Ricky Fisher and Rico De La Vega were among the competitors.
Highlights included Farrow looking to capitalize on his high-flying ability as six other men were battling it out in the ring. But when Farrow looked for a moonsault onto the group that was brawling in the ring. But they saw him coming and moved, before going back to their brawl. But what happened next was truly incredible. The largest man in the match (well over 300 pounds), The Bus then climbed the turnbuckle and the group brawling in the ring didn't seem to notice. The Bus then took flight and laid out all six men with a dive off the top.
The Bus then proceeded to eliminate Farrow, Qrow, De La Vega, Kilmeister and Turner in quick succession. That left The Bus and Ricky Fisher to determine who would get the title shot. But The Bus has created a bit of an alliance with Martinez, who had been eliminated, and Martinez decided to give The Bus a boost.
The duo teamed up to destroy Fisher, allowing The Bus to get the pin (pinfalls counted after the final four contestants were left in the match) and a shot at Levy's title.
We'll see what The Bus will do with that opportunity in the not-too-distant future.
See you next week!
Don't Miss An Episode of CCW Alive CCW Alive debuts every Tuesday at 7 p.m. on the Coastal Championship Wrestling YouTube page. Don't miss all the hard-hitting action of Coastal Championship Wrestling!
See CCW Live! Coastal Championship Wrestling is on tour. Don't miss the opportunity to see your favorite CCW stars live and in person.
· October 14 - Conquer Kissimmee - Sun On The Beach - Kissimmee, Fla.
· October 15 - Halloween Hardcore Heaven - CCW Arena - Pompano Beach, Fla.
· November 5 - Bash At The Brew 22 - Unbranded Brewing Copany - Hialeah, Fla.
· November 11 - Conquer Kissimmee - Sun On the Beach - Kissimmee, Fla.
· November 12 - Saturday Night Slam - Miami Brewing Company - Homestead, Fla.
· November 12 - The Long Halloween - RedCon1 Gym - Nashville, Tenn.
· November 18 - Breakout 18 - CCW Arena - Pompano Beach, Fla.
Click the link for tickets and information on all of CCW's upcoming shows.