Alive 133: Cha Cha Victorious; King Continues Her Dominance
Episode 133 of CCW Alive features two of the most popular wrestlers in all of Coastal Championship Wrestling. In a feud that boiled all winter long, Cha Cha Charlie faces off with James Tapia. Former CCW Women's Champion KiLynn King is also in action, taking on JC Storm.
Click the video player below to watch CCW Alive Episode 133 and scroll down for our recap.
Cha Cha Charlie def. James Tapia
In perhaps one of the biggest upsets in CCW history ... no not the winner of the match, but the way it was won ... Cha Cha Charlie defeated James Tapia.
These two have been battling in tag matches, singles matches, multi-man matches and even in Game of War all winter and spring. But this singles match from Bash at the Brew at the Unbranded Brewing Company finished in unforeseeable fashion.
Tapia had a good measure of success against the man known to many of The Franchise of CCW. But the above twisting neckbreaker to counter a superplex attempt was the beginning of the end.
Shockingly, Charlie picked up the victory with a brainbuster, not his usual Mangu Splash that he has finished off his opponents with in 99 percent (unofficially) of his CCW victories. Check out Charlie's victory below.
KiLynn King def. JC Storm
Former CCW Women's Champion KiLynn King has been all over the place in the world of professional wrestling, appearing for the National Wrestling Alliance and currently holding one half of the Impact Knockouts Tag Team Championship. But she always finds time to come home and compete in CCW.
On Episode 133, King faced CCW newcomer JC Storm and made quick work of the youngster. King scored the victory and continued her dominance in Coastal Championship Wrestling.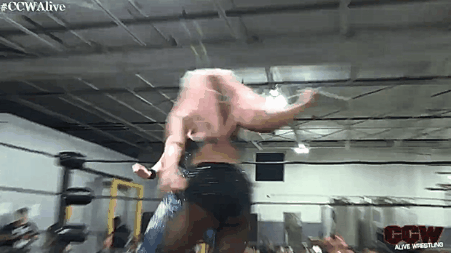 See CCW Live!
Coastal Championship Wrestling is always on tour. Don't miss the opportunity to see your favorite CCW stars live and in person.
Click the link for tickets and information on all of CCW's upcoming shows.