Alive 142: Farrow Retains Cruiserweight Title; 5-Star ERA Battles Kill & Talos
The CCW Cruiserweight Championship is defended and a massive tag team match ends in a double disqualification on this week's episode of CCW Alive.
CCW Cruiserweight Champion Chris Farrow defends against up-and-comer Tone Bennett. Meanwhile, Dr. Eric Christopher continues to send men against ERA, this time in a tag team match. ERA teams up with Ricky Martinez as 5-Star ERA against the team of the giant Jack Talos and Daisy Kill.
Click the video player below to watch CCW Alive Episode 142 and scroll down for our recap.
Chris Farrow def. Tone Bennett - CCW Cruiserweight Championship
The charismatic Farrow is in the midst of his second title reign as the CCW Cruiserweight Champion and has proven to be a fighting champion, taking on virtually all comers. This week, his opponent is the up-and-coming Tone Bennett.
Bennett nearly pulled off the shocking upset, managing to score a tombstone piledriver on Farrow. But Bennett seemed to hesitate just a bit before covering for the pinfall, which may have allowed Farrow the momentary ability to recover enough to kick out.
Farrow, quickly regained his senses and took control of the match. Mr. 954 eventually scored the pinfall and retained his title with his patented Sliced Bread.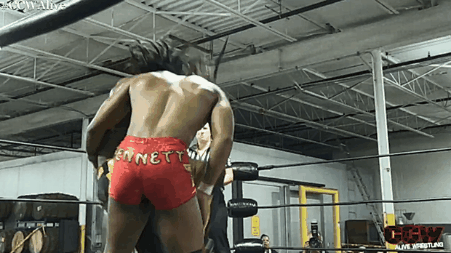 ERA & Ricky Martinez vs. Jack Talos & Daisy Kill (w. Dr. Eric Christopher) - Double DQ
Dr. Eric Christopher and Johnny Nova have been tormenting ERA for months. But this week, Christopher brings a tag team featuring the giant Jack Talos and Daisy Kill. ERA went to long-time friend and on-again, off-again tag team partner Ricky Martinez for backup.
ERA went to great lengths to earn an advantage and neutralize the size of Talos. Hell, he even took out his own partner and both opponents with this huge moonsault off the top to the outside.
These four men were intent on brawling and paid little attention to the rules or referee Andy Seeley. The official had a tough time controlling this match, which led to its conclusion. In the meantime, this nasty double-team maneuver nearly led to a victory for Dr. Christopher's men.
From there, things really started to break down, with brawling outside, pushing the limits of the official's instructions, etc. Finally, with all four men in the ring and the official trying to regain control, both teams put their hands on him, sending him tumbling to the mat twice.
The referee had no choice at that point, but to declare the match a double disqualification. While this match had no clear winner, what is clear is that ERA will still need to deal with Dr. Eric Christopher and his "patients" moving forward.
See CCW Live!
Coastal Championship Wrestling is always on tour. Don't miss the opportunity to see your favorite CCW stars live and in person.
Click this link for tickets and information on all of CCW's upcoming shows.