Alive 147: Snow Taps Wrong Lucero, Wins Anyway; Levy Survives Martinez in Cage
Two matches from Kumite 3 on this week's episode of CCW Alive! In our featured bout, CCW World Champion Ariel Levy faces former partner/friend Alan "S2S" Martinez. In the opener, Lindsay Snow takes on Nicolth Lucero in a submission match.
Click the video player below to watch CCW Alive Episode 147 and scroll down for our recap.
Lindsay Snow def. Nicolth Lucero (sorta) w/ Tiffany Lucero
In a wild submission match, Lindsay Snow faced off with Nicolth Lucero, who was accompanied to the ring by her sister Tiffany.
Snow won by locking in a rear naked choke, but she submitted the wrong Lucero. When referee Amy Veronica was inadvertently taken out and was incapacitated, Tiffany Lucero entered the cage and tried to give her sister an advantage.
Snow locked her in the submission maneuver and Tiffany tapped as Veronica came to. But Veronica, in a daze, didn't realize the wrong Lucero was the one tapping out before she called for the bell.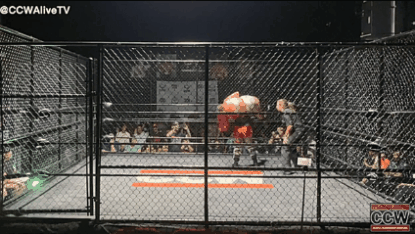 Ariel Levy def. Alan "S2S" Martinez - CCW World Heavyweight Championship
Alan "S2S" Martinez, the former friend and partner of CCW World Champion Ariel Levy, has spent months trying to get a measure of revenge against his former friend.
In a steel cage, it was a brutal bloody affair. Martinez used the very brass knuckles that Levy introduced to the ring to bust him open. You can see the blood fly off Levy's face in the clip below. This superplex almost won the match for Martinez.
But Levy's new henchman Meto slammed the door on Martinez's head, then pulled the champion out of the ring, allowing Levy to survive.