Alive 150: Real1 (fka Enzo Amore) Makes His CCW Debut
On this week's installment of CCW Alive, Real1 (fka Enzo Amore) makes his CCW debut.
He was scheduled to face off with Eddie Valentine. By the end of the night, however, Enzo and Cha Cha Charlie would team up to face Valentine and Joe Garcia, the Nightriders.
Click the video player below to watch CCW Alive Episode 150 and scroll down for our recap.
Real 1 (Enzo Amore) def. Eddie Valentine by DQ
First, Enzo had to suffer listening to Eddie Valentine proclaim himself better in the ring and better on the microphone. Then, he had to settle for a disqualification victory.
Amore hit a nasty DDT off the second rope and clearly had Valentine beaten, when Valentine's Night Rider partner Joe Garcia interfered in the match and got his partner disqualified.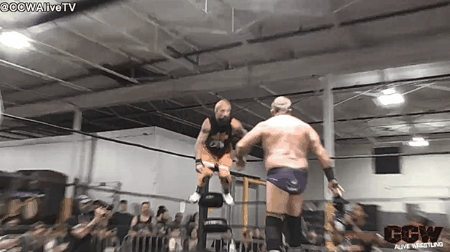 Real 1 (Enzo Amore) & Cha Cha Charlie def. The Night Riders
But Cha Cha Charlie made his way to the ring and wanted to team up with Enzo since both the Night Riders seemed to want to be involved. CCW officials approved the match, and it was on.
Enzo got his revenge on Garcia, sending him hard into the ring post.
With Garcia virtually incapacitated, Enzo rolled him back into the ring and Cha Cha Charlie finished him off with the Mangu Splash!
There was nothing left for Enzo and Cha Cha to do but dance the night away following their victory. Two wins in one night for Real 1 at CCW!