Alive 56 Recap: Diaz, Jackal Victorious
Two women with upcoming championship opportunities and a CCW Southeastern Championship match were featured on this week's CCW Alive Episode 56, which premiered Tuesday night.
Click the video below to see this week's episode or visit the CCW YouTube page.
Check out our recap of CCW Alive 56 below!
Anna Diaz def. Ruthie Jay This weekend, Anna Diaz get a shot at the NWA Women's World Champion Kamille in Nashville, Tenn. as CCW presents The Next Chapter. Then, on Oct. 23 at CCW Trial By Fire in Port St. Lucie, Fla., Ruthie Jay gets a shot at CCW Women's Champion Marina Tucker. But for right now, these two squared off in an all-important matchup in the CCW women's division, as Diaz came out on top with her signature sleeper, sending Ruthie Jay to dreamland.
Diaz took control of the matchup early, scoring with a nasty headbutt, as well as a vicious clothesline. In between Diaz stretched the rulebook as far as she could with CCW official Amy Veronica, often choking Ruthie Jay right up to the edge of disqualification. She even avoided a DQ when her elbow caught Ref Amy and bloodied her nose, but it was deemed unintentional.
Ruthie Jay weathered the early storm and scored with a huge splash off the ropes, trying to turn the tide. Outside-in double knees to the chest in the corner rocked Diaz, but wasn't enough to score the pinfall. As Ruthie missed a splash attempt in the corner, Diaz locked the sleeper on, but was driven into the turnbuckle to break the hold.
Ruthie Jay wasn't as fortunate the next time Diaz was able to grab her with the sleeper. Ruthie Jay missed with a wild clothesline attempt, leaving her back exposed to Diaz, leaving her vulnerable to the hold. Diaz locked it in, dropped to the mat and grapevined Ruthie Jay's body, leaving her no chance of escape.
Johnny Knockout Calls Out Gangrel This weekend at Nightmare on Park Avenue in Lake Park, Fla., The Vampire Warrior Gangrel comes to CCW to face off with Johnny Knockout. On this week's episode of CCW Alive, Knockout took a few moments to call out his opponent, even stating he was coming for Gangrel's fangs! This one's gonna be good! Don't miss it! Get your tickets now!
Jackal Stevens def. Reeves Portman (CCW Southeastern Championship Match)
CCW Southeastern Champion Jackal Stevens has defended his title against all comers since beginning his second title reign back on March 20. On this week's alive, he faced yet another game challenger, but retained with a hard-fought victory over Reeves Portman. It was Stevens' 14th defense of the Southeastern Championship.
Portman earned his first-ever shot at CCW gold by winning a triple threat match back at Breakout IV. The challenger began some mind games before the bell could even ring. CCW fan favorite Jackal Stevens wanted to pose for photos with CCW Senior Official Bruce Owens and his belt, but Portman interrupted before any photos could be snapped.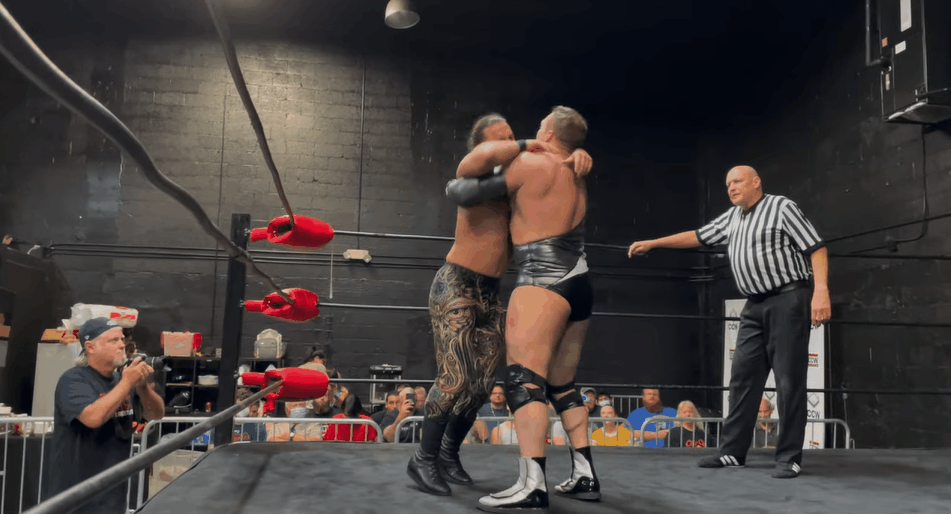 Portman enjoyed an early advantage as an ill-fated baseball slide from Stevens ended with Portman covering him with the ring skirt and beating on the champion's back as he struggled to see. The challenger followed up by dropping Stevens' back on the ring apron and banging him face first off the guard rail on numerous occasions. But Portman might have stayed on the outside a bit too long, as Stevens was able to run him shoulder first into the ring post.
Back in the ring, the educated feet of Jackal Stevens took over, landing kick after kick to the tree-trunk thighs of Portman. The advantage and momentum in the match swung back and forth. Portman launched Stevens across the ring with a release, overhead belly-to-belly suplex. Stevens later hit a standing suplex, leading to a springboard senton.
The pendulum continued to swing, as Portman hit three different overhead belly-to-belly suplexes, while Stevens scored with numerous kicks and even tried to submit the challenger with a mandible claw. Finally, it took Stevens escaping a crossface submission attempt by biting the hands of Portman to open the window necessary for the champion to come back.
After escaping the submission attempt, Stevens rebounded with a springboard savate kick, a blockbuster and an Olympic slam to secure the pinfall.
Don't Miss An Episode of CCW Alive CCW Alive debuts every Tuesday at 7 p.m. on the Coastal Championship Wrestling YouTube page. Don't miss all the hard-hitting action of Coastal Championship Wrestling!
Next week, our featured bout is KiLynn King vs. Sofia Castillo.
See CCW Live! Coastal Championship Wrestling is on tour. Don't miss the opportunity to see your favorite CCW stars live and in person.
· The Next Chapter takes place Saturday, Oct. 16 at Helios Granite in Nashville, Tenn. Bell time is set for 8 p.m.
· Nightmare on Lake Ave. is slated for Sunday, Oct. 17 in Lake Park, Fla. at the Kelsey Theater. Bell time is 6 p.m.
· Oct. 22 will see Breakout 6 at the CCW Arena with an 8 p.m. start time.
· CCW returns to Port St. Lucie at the MIDFLORIDA Credit Union Event Center on Oct. 23 for Trial By Fire, an 8 p.m. show featuring AEW star Fuego Del Sol.
Click the link for information on all of CCW's upcoming shows.